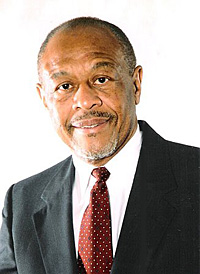 Dr. Jerome B. Williams is a native of Beloit in Dallas County, near Selma, Alabama, where he completed grade and high school. After spending a year at Alabama A&M University, he went on to graduate from Tuskegee Institute with a BS degree in Animal Science '68 and a Doctorate in Veterinary Medicine '69.
He began his medical practice career in Chicago at the Stresser Animal Hospital and Southtown Animal Hospital, while also becoming Supervisory Veterinary Medical at USDA, APHIS in Illinois. Additionally, he holds license to practice Veterinary Medicine in Alabama, Illinois, Florida, Georgia, and Louisiana.
In 1975, he returned to Alabama to establish the Red Mountain Animal Clinic in Homewood, where he continues to practice nearby today. When horse racing came to Birmingham in 1981, he served as Deputy Chief Veterinarian for the Racing Commission until horse racing was suspended in 1985.
TV station, Birmingham Fox 6, came calling in 1999 to begin his highly rated segment, "Ask the Pet Doctor" on Good Day Alabama; additionally, since '09, he Co-Produce/Co-Host the equally popular "Veterinary Specials Segment." He is also a member of Veterinary News Network (VNN).
After more than a decade of work with Professional Wellness Program, he became Director of the Alabama Veterinary Professionals Wellness Program. With this nationally and internationally recognized program, he spends considerable amount of time and energy working with veterinary professionals/staff and others dealing with depression, drug/alcohol abuse, and suicide prevention.
Dr. Williams has been involved with a number of organizations, many in leadership positions. They include: Alabama Veterinary Professionals Wellness Program, Magic City Boys Club, Sigma Pi Phi Fraternity (Boulé), Jefferson County Veterinary Medical Association, Focus On Recovery, Hand In Paw, Tuskegee University School of Veterinary Medicine Deans Advisory Council, and its Alumni Executive Council. He has numerous publications and is quoted by local and national media.
He is founder and Executive Director of the Red Mountain Wellness and Restoration Foundation and Founder and President of the Dream Scholarship Initiative. Since '10, he has served on the Board of Trustees and is President of the Alabama Veterinary Medical Foundation.
He holds memberships in ALVMA, AVMA, JCVMA, Omega Psi Phi Fraternity, Sigma Pi Phi Fraternity (The Boulé), Tuskegee University Alumni Association, and Alabama A&M University Alumni Associations.
In addition to being claimed by the many young students and professionals that he has mentored over the years, he treasures the time spent with his four children and eight grand kids. For relaxation, he likes to travel, read, meditate, garden, and spend time on the lake.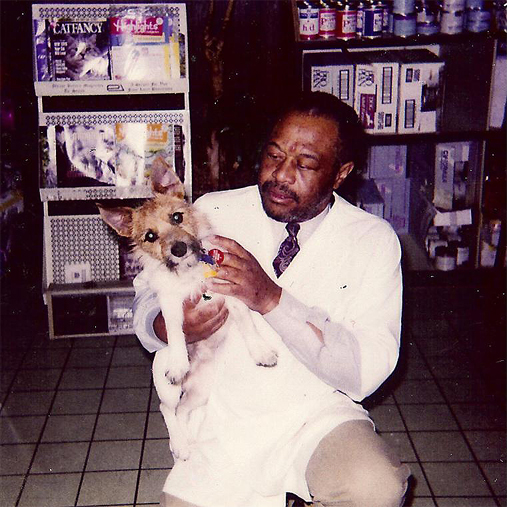 "Born a Dog – Died a Gentleman"
We love our animals so much, and it's so hard to let them go. The loss of any beloved pet has a drastic impact on our lives and is equal to or worse than that of losing a human family member. That's how I felt about Jack. At the risk of being prejudice, Jack was, perhaps the smartest dog I have ever known (and I've known quite a few). He was my original sidekick as I toured the southern region promoting pet owner education and mentoring those interested in veterinary medicine. Even more than being the original "Super Dog" of the South, Jack was my loyal companion and best friend. For the entire 18 years of Jack's life, to call him a dog hardly seemed to do him justice. Inasmuch as he had four legs, a tail, and barked, I admit that he was to all outward appearances, definitely the most delightful dog one could know. But to those who knew him well, Jack was a perfect gentleman.
Jill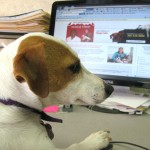 In 2004, it was decided that Jack must have a companion in his tender years. Drs. Robinson and Robinson, a husband and wife veterinary team that I mentored years ago, insisted that they had the perfect companion from their selected breeding. Who better to compliment my faithful Jack than another Jack Russell Terrier that I properly named (Jillian) Jill?

When Jack was no longer able to frequent the social scene, Jill picked up where he left off. Jill was amazing! It was as if Jack had been whispering dog etiquette and the rules of public appearance in Jill's ear in the wee hours of the night. Jill began to tour with me as Jack had previously done.
In 2005, Jill made her debut with me on WBRC Fox 6 Good Day Alabama's "Ask the Vet" segment. Since that time, she has been seen on various TV segments and programs. As I travel to career fairs at schools and speak at other organizational events promoting pet education and health, Jill is usually right by my side. She has proven to be as charming as Jack was smart, and has won the hearts many. My journey through the many facets of veterinary medicine has been greatly impacted by the presence of my beloved Jack and Jill.